Welcome
Bayside Commercial & Domestic Cleaning Services based in Sydney area can provide you with a complete range of Residential and Commercial cleaning solutions.
Covering Sydney East & North and surrounding areas we have built up a strong client base and regular clientele from property agents, residential blocks, offices, showrooms, developers and councils. Our regular work, excellent rapport, changing attitude towards the environmental changes and competitive pricing have kept us steadily growing in this high demand market.
Why choose us
100% Australian owned and operated
Competitive prices, high standards
Sydney based specialist in the institutional and commercial cleaning
We cover Sydney East & North and surrounding areas
We offer Eco Friendly cleaning services
Many satisfied clients and institutions have chosen Bayside cleaners
There are many more reasons why Bayside cleaners are the top choice. On this website you can find all the information about the cleaning services we provide. Click the links on the right to find out more.
Please do not hesitate to contact us on 0432 121 721 or Click here to Book Our Services »
Services
Commercial
Domestic
Cleaning tips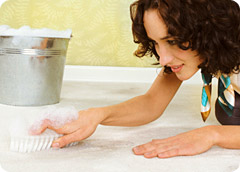 Chewing Gum on the Carpet
First of all, you have to place a little bit of ice on the chewing gum and keep it on the top of it for a while to harden it. Once hard, you will be able to use scissors or a small knife to gently remove it without damaging the carpet. After you removed as much chewing gum as possible, you can apply some dry-cleaning fluid with a cotton bud and work over the spot.
At the end, use eucalyptus oil or tea-tree oil to remove the chewing gum. Rub the spot in circles with a tissue and when finished, let the carpet dry.