Body Corporate Cleaning
When searching for body corporate cleaning service there are two things that really matter. The first one regards the quality provided and the second concerns a company's efficiency throughout the task. While some cleaning companies are only able to deliver on one or the other, Bayside Cleaners promises to please you on both accounts.
We understand that you are a busy company and need quality services delivered in a time effective way. That is why we strive to provide a body corporate cleaning service that will get in and get out, leaving behind us a sparkling clean office building. When you choose to work with Bayside Cleaners in Sydney, we guarantee you will receive everything you expect from a professional cleaning company.

We are able to ensure a quality body corporate cleaning service because we invest a great deal into creating a professional workforce that is both capable and productive. Each member of our cleaning team is specifically trained for the cleaning jobs required of us. This means that they are prepared to efficiently handle any situation that may arise. Furthermore, we desire to make things as stress free as possible. So our staff strives to be friendly and reliable in order to ensure a smooth experience from beginning to end.
It is important to know who you are entrusting when you employ a cleaning service. That is why you can rest assured that the staff performing your body corporate cleaning service is trustworthy and legit. Each worker has references, has been thoroughly checked out, and is fully insured. So you can enjoy peace of mind knowing that a choice for Bayside Cleaners is the right one.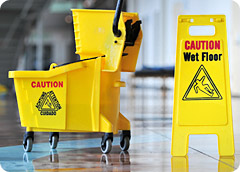 At Bayside Cleaners, each body corporate cleaning service we provide is more than just a job. We recognize each client in an effort to provide individualized care and unparalleled quality.
In order to get you started, we provide free quotes on any job. Once you request an estimate, we will get back to you within 24 hours.
No job is too big or too small. Our body corporate cleaning service ensures that every nook and cranny of any commercial building will be thoroughly cleaned of all dust bunnies and cobwebs. Our team will not gloss over any part of the mess but instead gives special attention to every aspect of the area to be cleaned.
We have a history of satisfied customers that can attest to our quality thoroughness and professional efficiency. We desire your loyalty and seek to earn it by providing a satisfying experience via our friendly staff and our professional work. Once you try us for your next body corporate cleaning, we are sure you too will be satisfied with our work.
Give us a call on 0432 121 721 or Send an Enquiry »