Spring Cleaning
If you don't like cleaning or you don't have time, then don't stress and waste a whole day doing spring clean! Bayside Cleaners are specialised in seasonal Spring Cleaning. Your house will smell great, look fantastic and you will feel good by living in a fresh, clean environment.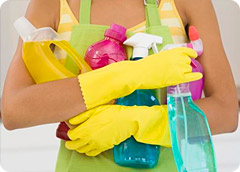 Normally, Spring is the time to clean your house or apartment after winter from all the dust.
Bayside trained cleaners can do a total top to bottom cleaning for you at the time that suits you.
Our cleaners will dust and polish all areas in your home or apartment including bathrooms, kitchen, storages and laundry rooms.
We can clean all your windows and steam clean carpets and rugs. Our professional cleaners will make sure that your floors are spotless clean and our cleaning supervisors will spot check all work to maintain Bayside high spring cleaning standard.
Bayside Cleaners are committed to growth using an educated workforce and best practice to provide safe working solutions to cleaning problems. Whilst also providing support services to meet the increasing needs of our clients.
Need a hand with your Seasonal or Spring cleaning?
Call Bayside now on 0432 121 721 or Book Our Services »